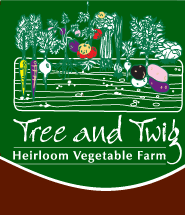 Linda at Tree & Twig Heirlooms will host her annual Tomato Days event on the May long weekend this year.
Everyone needs one, whether for a little bit of insurance in case something happens to your seedlings, or in the case that you read the last post and thought... to hell with that! If you're not into the idea of growing your own veggies and fruits from seed, there is certainly no reason that you can't get into the fun of having a garden this season.
On the May long weekend,
Linda at Tree & Twig Heirlooms
will host her annual Tomato Days sale, where unthinkable numbers of tomato seedlings will be available to purchase, along with other started veggies. I won't be able to resist expanding my collection, but for others, the event presents a unique opportunity to get in on the grow-your-own action and to meet others who want to do the same.
Check out Linda's post on her blog about Tomato Days, and mark it on your calendar!